About Madurai
CITY PROFILE
Madurai is a major city in the state of Tamil Nadu in southern India. It is the administrative headquarters of Madurai District. Madurai is the second largest corporation city by area and third largest city by population in Tamil Nadu. Located on the banks of River Vaigai, Madurai has been a major settlement for two millennia and is one of the oldest continuously inhabited cities in the world. Madurai is closely associated with the Tamil language, as all three primary congregations of Tamil scholars, the Third Tamil Sangams, were held in the city between 1780 BCE and the 3rd century CE. The recorded history of the city goes back to the 3rd century BCE, being mentioned by Megasthenes, the Greek ambassador to India, and Kautilya, a minister of the Mauryan emperor Chandragupta Maurya.
The city has a number of historical monuments, with the Meenakshi Amman Temple and Tirumalai Nayak Palace being the most prominent. Madurai is an important industrial and educational hub in South Tamil Nadu. The city is home to various automobile, rubber, chemical, hand loom textiles and granite manufacturing industries. It has developed as a second-tier city for information technology (IT), and some software companies have opened offices in Madurai. Tamil Nadu government planned satellite town for Madurai near Thoppur. Madurai has important government educational institutes like the Madurai Medical College, Homeopathic Medical College, Madurai Law College, Agricultural College and Research Institute. Madurai city is administered by a municipal corporation established in 1971 as per the Municipal Corporation Act. The city covers an area of 147.99 km2 and had a population of 1470755 in 2011.The city is also the seat of a bench of the Madras High Court, one of only a few courts outside the state capitals of India.
HISTORY AND GROWTH
Madurai is known as Athens of the East and a place of great historical and cultural importance. It was originally known as Kadambavanam or the "forest of Kadamba" or the Nauclea Kadamba. Madurai is home to several historic temples, monuments, churches and mosques. It is a pilgrimage centre and gateway to south Tamil Nadu having the world famous Sri Meenakshi Amman Temple at its core. In 1801, Madurai came under the direct control of the British East India Company and was annexed to the Madras Presidency. The city evolved as a political and industrial complex through the 19th and 20th centuries to become a district headquarters of a larger Madurai district.
MADURAI CITY MAP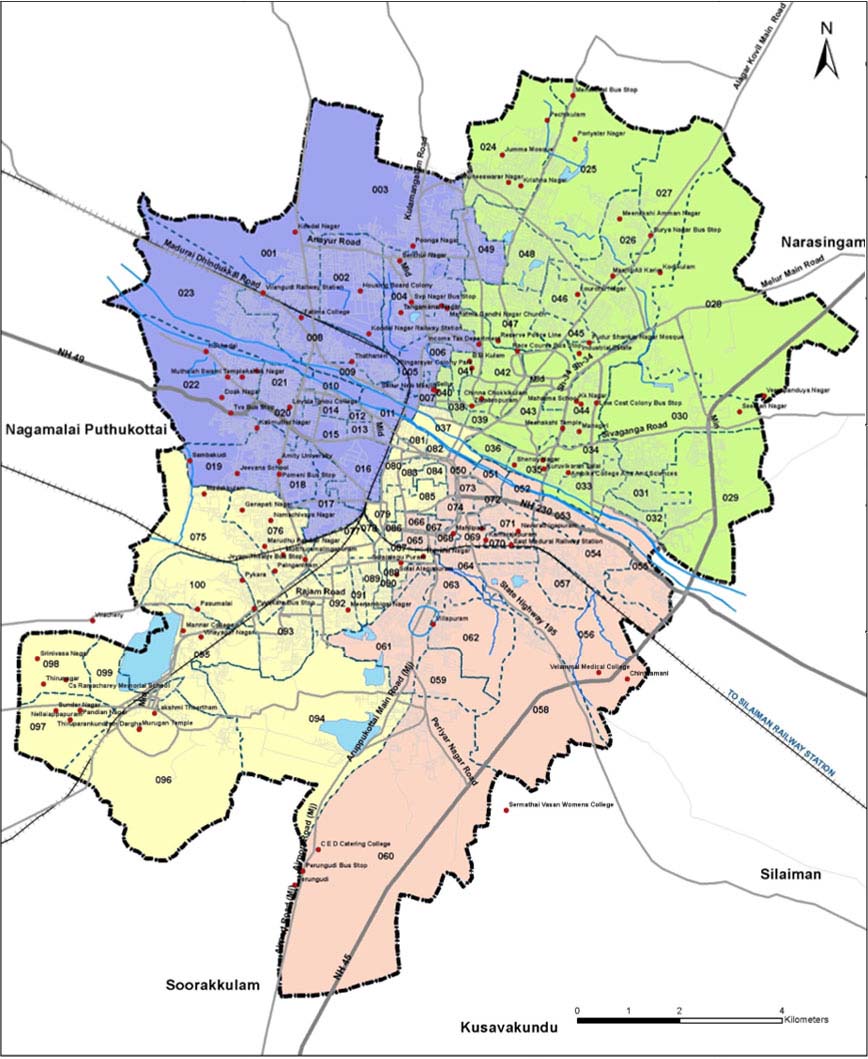 CONNECTIVITY AND LINKAGES
ROAD NETWORK
The National Highways NH 7, NH 45B, NH 208 and NH 49 pass through Madurai. The state highways passing through the city are SH-32, SH-33 and SH-72, which connect various parts of Madurai district. Madurai is one of the seven circles of Tamil Nadu State Highway network. Madurai is the headquarters of the Tamil Nadu State Transport Corporation (Madurai) and provides local and intercity bus transport across seven districts namely Madurai, Dindigul, Theni, Virudhunagar, Tirunelveli, Thoothukudi and Kanyakumari. Madurai has four major bus stands, namely, M.G.R Bus Stand Integrated Bus Terminus (MIBT), Arappalayam, Palanganatham and Periyar Bus stand.
RAILWAY NETWORK
Madurai Junction is an important railway junction in south Tamil Nadu and constitutes a separate division of the Southern Railway. There are direct trains from Madurai connecting the important cities in Tamil Nadu like Chennai, Coimbatore, Kanyakumari, Trichy, Tirunelveli, Karaikudi, Mayiladuthurai, Rameswaram, Thanjavur and Vriddhachalam.Madurai has rail connectivity with important cities and towns in India. The state government has announced Mono rail project for Madurai in 2011, which is in planning stages.
MADURAI AIR NETWORK
Madurai International Airport is located 12 kilometers from the city. It offers domestic flight services to major cities in India and international services to Colombo, Sri Lanka (beginning September 20, 2012). The carriers operating from the airport are Air India, Jet Airways and SpiceJet. The airport handled 5.2 lakhs passengers during Apr 2011 to Mar 2012.
CONNECTIVITY AND LINKAGES MAP OF MADURAI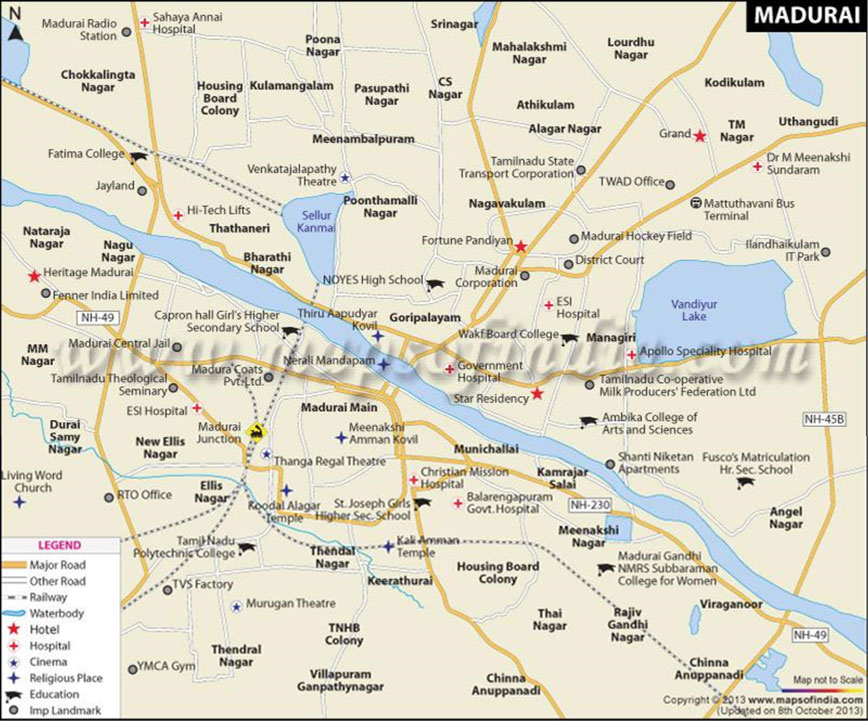 MADURAI CONSTITUTION
The municipality of Madurai was constituted on 1 November 1866 as per the Town Improvement Act of 1865.The municipality was headed by a chairperson and elections were regularly conducted for the post except during the period 1891 to 1896, when no elections were held due to violent factionalism. In 2011, the jurisdiction of the Madurai Corporation was expanded from 72 wards to 100 wards covering area 147.99 Sq.Km, dividing into four regions-Zone I, II, III, IV. The functions of the municipality are devolved into six departments: General, Engineering, Revenue, Public Health, Town planning and the Computer Wing. All these departments are under the control of a Municipal Commissioner who is the supreme executive head. legislative powers are vested in a body of 100 members, one each from the 100 wards. The legislative body is headed by an elected Mayor assisted by a Deputy Mayor.
MUNICIPAL AREA
Madurai Corporation is the second largest Municipal Corporation in the state of Tamil Nadu. Madurai was constituted as a municipality as per the Town Improvement Act of 1865 on 1st November 1866. It was upgraded as a Corporation on 1st May, 1971 in view of rapid increase in population and extension of administrative boundaries.
The jurisdiction of Madurai Corporation has been extended on 28th September 2010, to include the areas of the city Corporation, 3 Municipalities, 3 Town Panchayats and 11 Village Panchayats located around the Madurai Corporation. Consequent to this extension, the total area of the Corporation has increased considerably from 51.82 Sq.KM to 147.997 Sq.Km and the numbers of the wards have increased from 72 to 100. The extended Municipal Corporation had a population of 14, 70,755 persons as per 2011 census.
ZONE-WISE DISTRIBUTION OF MMC
| DETAILS | ZONE 1 | ZONE 2 | ZONE 3 | ZONE 4 | TOTAL |
| --- | --- | --- | --- | --- | --- |
| WARDS (NOS.) | 23 | 26 | 25 | 26 | 100 |
| WARD LIST | 1 TO 23 | 24 TO 49 | 50 TO 74 | 75 TO 100 | 1 TO 100 |
| AREA (SQ. KM) | 37.35 | 46.94 | 27.01 | 36.7 | 148 |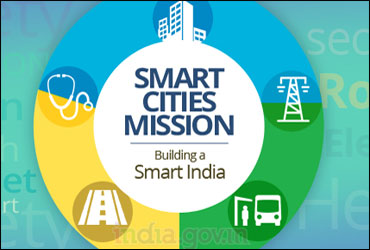 QUICK CONTACT
Madurai Smart City Limited, Madurai - 625 002, Tamil Nadu, India.
Tel : 0452-2530521 to 2530526
Fax : 0452-2530521
Email : mducorpce@gmail.com