Institutional Framework
INTRODUCTION
Provision of urban services and maintenance of public assets has normally been the responsibility of Urban Local Bodies (ULBs) consisting of Municipal Corporations, Municipalities and Nagar Panchayat. The 74th Constitutional Amendment significantly enhanced the role of ULBs by including functions such as town planning and overall urban development, regulation of land use, urban poverty alleviation, etc.
URBAN DEVELOPMENT INSTITUTIONS, TAMIL NADU
The institutions responsible for urban development in the state of Tamil Nadu are as follows.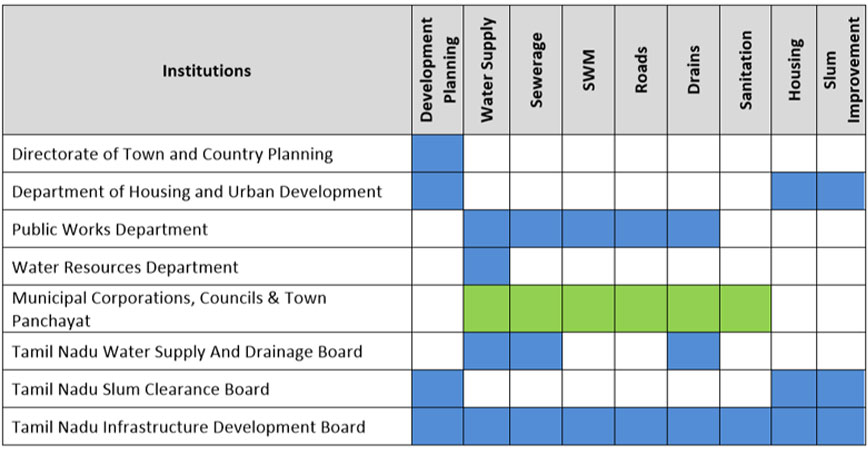 DECENTRALIZED PLANNING IN TAMIL NADU
The organizational structure for administering the ULBs in Tamil Nadu is as under: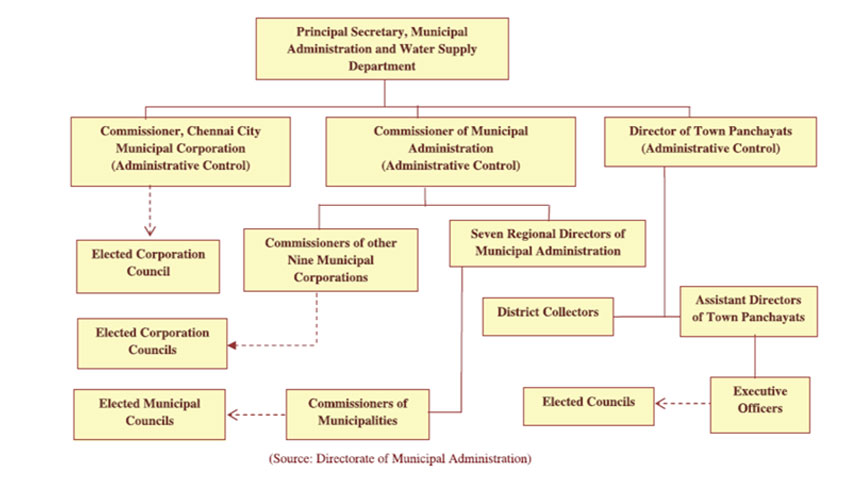 MUNICIPAL CORPORATION OF MADURAI
The entire Madurai Corporation administration is broadly divided into 2 distinct wings.
Deliberative wing
The Madurai Corporation deliberative wing consists of a Council with all the Councilors as Members and 6 standing Committees. The elected Council period is 5 years .Each standing committee has one Chairman and 5 members. The members of the Committees are elected by the Council by secret ballot. The Chairman of the each Committee is elected by the members of that committee. The period of the office of the Chairman is one year.
Executive Wing
The Madurai City Municipal Commissioner is the Chief Executive of the Corporation. The Madurai City Municipal Commissioner is appointed by the Government .Generally, an Officer of Indian Administrative Service is appointed as Commissioner. The Commissioner has over all control of the Corporation Administration.
The entire Corporation administration is divided into several Departments. Each department is specifically assigned one or more functions .Each department function under the control of a Class I officer .The Class-I Officers functions under the direct control of the Commissioner.
To assist the Class-I Officer, most of the departments have Class- II Officers. Also each Department is having Class-III and Class -IV employees.
STRUCTURE OF THE COUNCIL IN MUNICIPAL CORPORATION OF MADURAI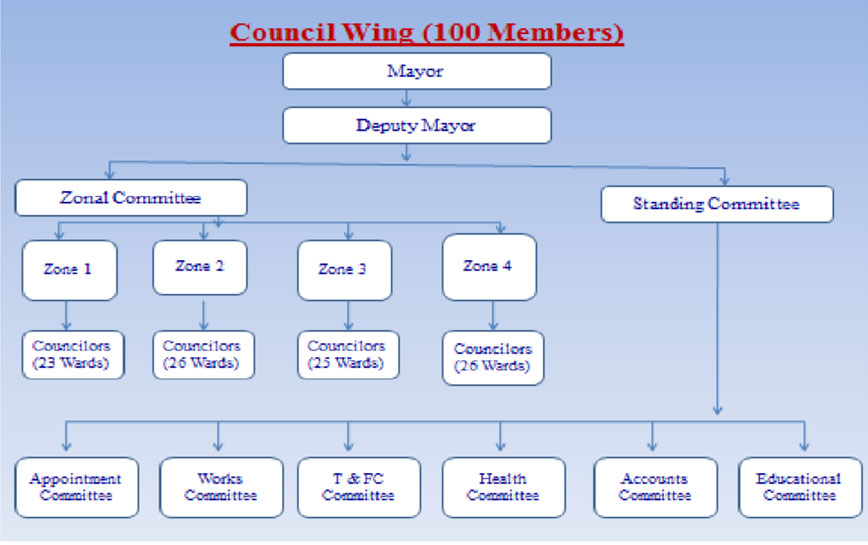 STRUCTURE OF THE EXECUTIVE WING OF MMC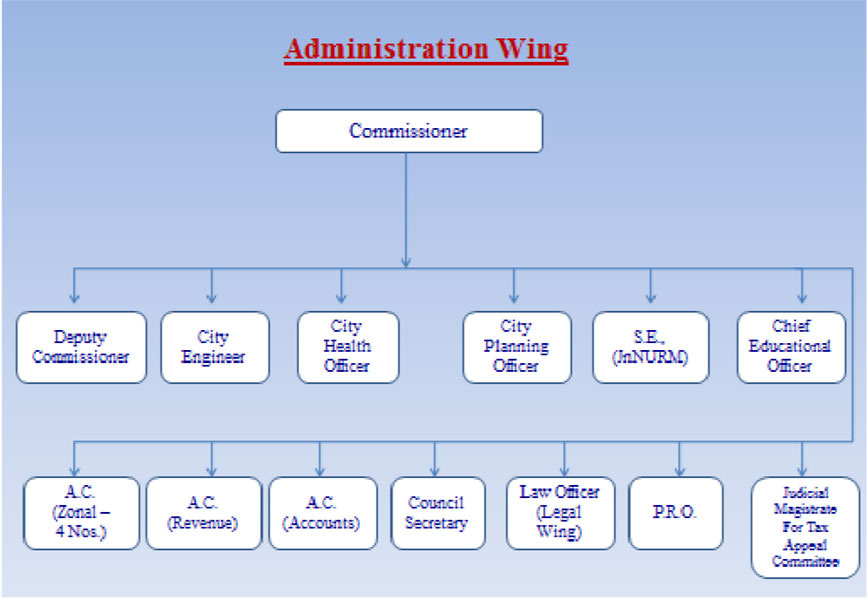 FUNCTIONS OF THE URBAN LOCAL BODY
The list of functions that has been laid down in the Twelfth Schedule is as follows
Functions of Municipal Corporation
Essentially Municipal Functions
Urban planning including town planning
Regulation of land-use and construction of buildings
Planning for economic and social development
Roads and bridges
Water supply domestic, Industrial and commercial purposes
Public health, sanitation, conservancy and solid waste management
Fire services
Urban forestry
Preventive Health Care
Provision of urban amenities and facilities such as parks, gardens, playgrounds
Burials and burial grounds, cremations, cremation Ghats/grounds and electric crematoria
Cattle pounds, prevention of cruelty to animals
Vital statistics including registration of births and deaths
Street lighting
Parking lots, bus stops and public conveniences
Regulation of slaughter houses and tanneries
Slum improvement and up gradation
Agency Functions
Protection of the environment and promotion of ecological aspects
Safeguarding the interests of weaker sections of society, including the handicapped and the mentally retarded
Urban poverty alleviation
Promotion of cultural, education and aesthetic aspects
Primary Education
Primary Health Care